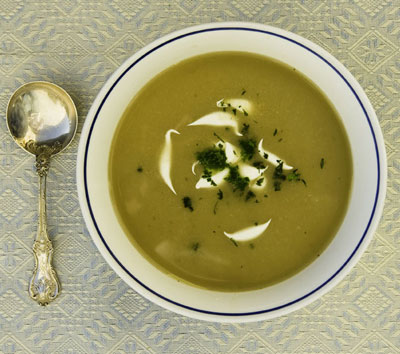 In January, I can still pull parsnips, leeks and celery from my garden in San Francisco and add potatoes from my cold storage to create some wonderful menus. This soup is one of my favorite comfort foods for a cold winter night.
(Serves 6 to 8)
1 leek
1 tablespoon of butter
Salt and pepper
2 pounds of parsnips
2 tablespoons of crème fraiche
4 large stems of parsley
5 small to medium potatoes
2 quarts Smart Gardener vegetable stock (see Smart Gardener "Winter vegetable stock garden" for ingredients)
Cut the dark green tops off the leeks and save them for your compost. Cut the white bulb lengthwise and rinse thoroughly; then dice. In a stockpot, melt the butter and sauté the leeks over medium heat, cooking them until they are soft. While the leeks are cooking, peel and dice the potatoes and parsnips. Then add them to the leeks and sauté the mixture until softened and lightly browned, stirring occasionally. Add the Smart Gardener vegetable stock, lower the heat and simmer for about an hour. The vegetables should be soft but not overdone.  Take the pot off the heat and puree the vegetables and broth with a hand blender; or run it through a food mill and then pour it through a chinois strainer for a smooth consistency. Chop parsley very fine. Serve soup warm and garnish with parsley and a spoonful of the crème fraiche.
Note: If you can't find crème fraiche at your grocers, you can make your own by combining 1 cup of whipping cream with 2 tablespoons of buttermilk. Let the mixture sit at room temperature overnight and then stir well and refrigerate.