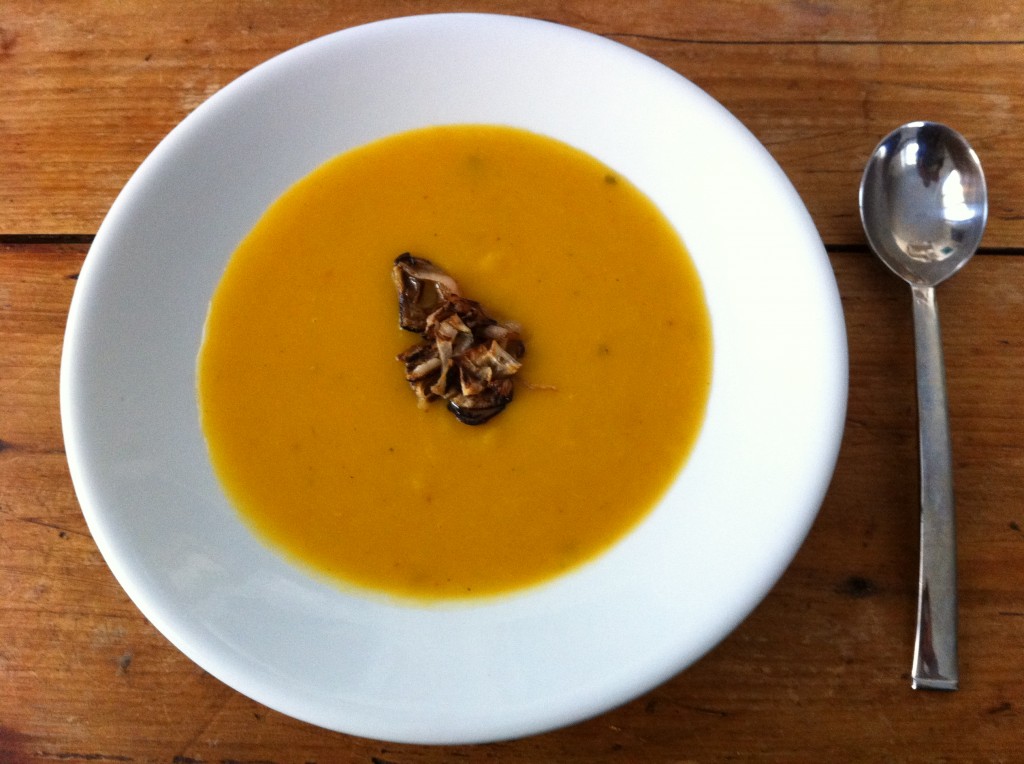 With its rich orange color and hearty texture, butternut squash soup is my idea of the quintessential autumn meal served alone or with a gooey grilled cheese sandwich. It can be made simply with squash and broth, but throw in other seasonal produce and you'll have a true harvest treat.
If you pick the squash when it is fully mature (its hard skin cannot be pricked by your fingernail and its surface has lost its sheen and appears dull and dry), you can store it for up to 3 months at 50º with a 50% to 75% humidity. You can also cube and freeze raw squash or cook it first and freeze the puree.
Roasted Butternut Squash Soup
(Serves 8)

1 4-pound butternut squash
2-3 tablespoons olive oil
1 teaspoon ground allspice
1 sweet yellow onion, chopped
3 medium sized leeks, cleaned, sliced
3 Granny Smith apples, peeled and cubed
10 sage leaves
8 cups reduced sodium chicken broth
Sea salt to taste
Pepper to taste
4 Shallots
1. Preheat oven to 425ºF.
2. Slice the squash lengthwise and remove the seeds. Place on a roasting pan, skin side down and spray or drizzle each half with olive oil. Sprinkle with allspice and roast for 1-1-1/2 hours until the squash is soft when poked with a fork.
3. While the squash is roasting, chop the onions, leeks, apples and sage leaves. Coat the bottom of a stock pot with olive oil and sauté the onions for 2 to 3 minutes on medium heat. Add the leeks and sauté for another 2 minutes. Add the apples and sage, cover the pot, reduce the heat and let the ingredients simmer for 10 minutes, stirring occasionally.
4. When the onions are soft and translucent, add the chicken broth to the pot and bring the mixture to a boil. Continue to boil on medium heat for 20 minutes. Take off the heat and let sit until squash is ready.
5. When the squash is cool, scoop the flesh from the skins and add it to the stockpot. Puree all the ingredients with a hand blender—or in batches in a regular blender. Season to taste with salt and pepper and reheat.
6. Peel and slice the shallots and sauté them in olive oil until nicely brown. Garnish the soup with a sprinkle of crispy shallots and serve.